We are pleased to announce that the SCILLSS project has been recognized by the American Education Research Association (AERA) as first place winner of the AERA 2020 Division H's Outstanding Publications Competition in Category 4: Assessment & Accountability! The award is a testament to the significant contributions that the SCILLSS states and partners have made in developing a pair of assessment system evaluation protocols and an accompanying digital workbook. For a complete list…
We define a theory of action to clarify how our clients' needs and objectives relate to each other and to other salient characteristics of their education systems. View more.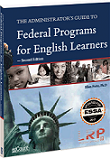 edCount CEO & Chief Scientist, Dr. Ellen Forte, authored this comprehensive manual about serving English learners, first published in 2010 and released in its second edition by LRP Publications in 2017.
To learn more, click here.
"We are the go-to shop for federal, state, and local educators who want help with a variety of issues, all ultimately relating to the quality of student-teacher interactions. We are assessment geeks who care about instruction. We are policy wonks who care about practice. And we get along with everyone."
Ellen Forte, Ph.D.
edCount CEO & Chief Scientist